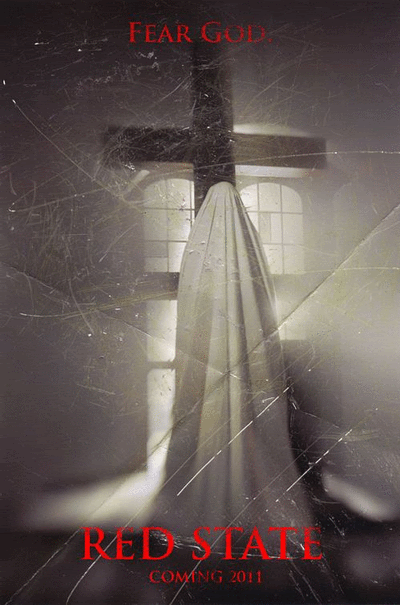 Red State
Starring: Michael Parks, Melissa Leo, John Goodman
Writer: Kevin Smith
Director: Kevin Smith
Three high school buddies --Travis, Billy-Ray and Jarod-- travel out to the country to meet up with an older lady that Jarod has been corresponding with online, where she proposed having sex with all of them simultaneously. Being the horny-toads they are, Travis, Billy-Ray and Jarod are more than intrigued. Once they arrive to the lady's trailer, she begins shoving beer down their throats, getting them prepped up for what they believe will be a lustful night they'll never forget.
Flash-forward:
Jarod wakes up in a cloth covered cage to the ramblings of a sermonator named Abin Cooper, the leader of the Five Points Church --a group known for racism, hatred towards homosexuals, funeral protesting and all kinds of other ass-backwards shit. Red State is oozing with the stuff that makes me fear religious fanatics far more than I could ever fear any God.
I wasn't sure whether to write about this or not, as it hits on subjects that I tend to stay the fuck away from. But I was pretty taken back by it, so I figured whatevs....
Over the years, my feelings for Kevin Smith and his movies has gone from epic lovery to half n' half. Let me do a rundown:
Apologies in advance...
Clerks – I caught on with this flick probably 4 years after its release --which means I watched his first 3 films back to back-- while I was working at a dying video store. I immediately fell in love with Dante and his girlfriend issues, as well as Randall and his "don't give a fuck" attitude towards customers. I was basically living vicariously through this movie for a long time. I watched it so many damn times that it's very rare for me to be in the mood for it now.
Mallrats- Yeah, the one that got panned across the board is the one I love the most, and can still pop in any old day and enjoy it just as much as I did during my first viewing. Indeed, it has some awkward moments that don't seem to fit, but I think those instances are a major part of the film's magic.
Chasing Amy- Another one I identified with due to things going on in my life at the time. Now I just have a really hard time sitting through it. Joey Lauren Adams' voice gets on my fucking nerves and Affleck is annoying, too. Still think Jason Lee is pretty awesome, though.
Dogma- Probably something I would never watch again. Linda Fiorentino gives such a bad performance and it's too obvious that she didn't give a shit. The scene of her trying to act drunk in the subway took me out of the whole movie. YES, that one scene. While I found a few good spots afterward, I had a hard time with any segment where her character was involved. And she is involved in most of it, so fuck all.
Jay and Silent Bob Strike Back- The most elementary of the bunch, imo, but I enjoyed it. However, I am basing this assumption from a time when I was burning brain cells by the second... so who knows how I would feel about it now.
Jersey Girl- Eh, a little too emo for me, I guess. I've actually only watched it once, and I didn't hate it, but haven't exactly been in the mood for it since.
Clerks 2- I seem to like it more than most people. Overall, it was just nice seeing those characters again in their own feature.
Zack and Miri Make a Porno- Hah, thought this was great! A Smith comedy without being a Smith comedy, really. Sure, it's overflowing with vulgarities but there's just something different that makes it stand apart from his typical dick and fart joke movies.
Cop Out- Have not seen it, have no interest in seeing it. Just didn't appear to be something that I would like, which sucks, because I dig a lot of the cast.
Kevin Smith as a person- Used to love listening to him talk, especially on the first "An Evening With Kevin Smith". Once the second one rolled along, he appeared kind of pompous to me. He seems to like to hear himself talk more than anything else. Watching his speech at Sundance for Red State gave me a fucking headache, to say the least. Basically, I was kind of over Kevin Smith.
Now that I got that out of the way...
Red State was the absolute furthest thing I expected to see from Smith. I remember it originally being announced by many websites as an "upcoming slasher". I have a hard enough time calling it a horror film, but it is definitely not a slasher. I can understand the debate of labeling it horror, just can't agree with it. Sure, horrific shit happens and it's all caused by some horrific mother fuckers, but if I were to throw Red State into said genre, I may as well put Gus Van Sant's Elephant in that category, too. I just can't do that; it doesn't seem right to me. I'd call this a psychological thriller before summing it up as anything else.
Smith throws jabs at religious extremists and government coverups while pulling no punches, and the longer the film runs the more consuming it gets. Red State relies heavily on dialog, but not the kind a View Askew regular may be expecting. For the first 10 minutes or so a there indeed is some funny character interaction, but once the three high school friends show up to the trailer being promised a night of drunken nasty sex, the humor quickly disappears.
Even from a visual standpoint this looks nothing like previous Kevin Smith films, and I'd argue that it's the best in that respect. Most of his older films --up until Dogma, at least-- have a real amateurish look to them by way of cinematography and overall direction. I don't mean that in a disrespectful manner, I feel that was a big part of their charm, just sayin' it's nice to see something more slick. Red State offers lots of nifty wide panning sequences and interesting shots, such as one directly atop of Michael Parks --literally a scene nestled in between the parting of his hair on his head-- surfacing over his whacked out followers. I also love sequences in movies where a camera is placed right in front of an individual, facing them while they are walking or running their ass off; there's a couple of those moments here. The editing during the last half hour is highly impressive, too.
You simply couldn't ask for better performances from Michael Parks and John Goodman; I feel they are both offering up some of the best work they've ever done... I really mean that. Parks plays Abin Cooper, the leader of an intense christian fundamentalist hate group. The man doesn't skip a beat. Usually playing a minimal --albeit memorable-- character in Tarantino/Rodriguez collaborations, he's given a ton of beef to chew into here. Cooper is someone you quickly fucking despise, and it's awful to think there are so many people in the world with similar ideologies. John Goodman is a complete boss in the role of special agent Joseph Kennan, the man in charge of negotiating with the church, unaware to what's actually going on inside. Goodman has lost a LOT of weight; it almost looks unhealthy. Anyway, he fucking owns in his portrayal of a by the books man of the law, no matter how shitty his orders may be. He nails his lines in the highly proper finale, too. Incredible.
I can't really go into anything more than what I have, so that's a wrap. Judging from the feedback, Red State has proved to be a love/hate type film, but it seems like the bulk of the audience have mixed feelings or are overly disappointed. Not me; this was perfect timing for Smith to do something so entirely different, because his toilet humor days are over, as far as I'm concerned.