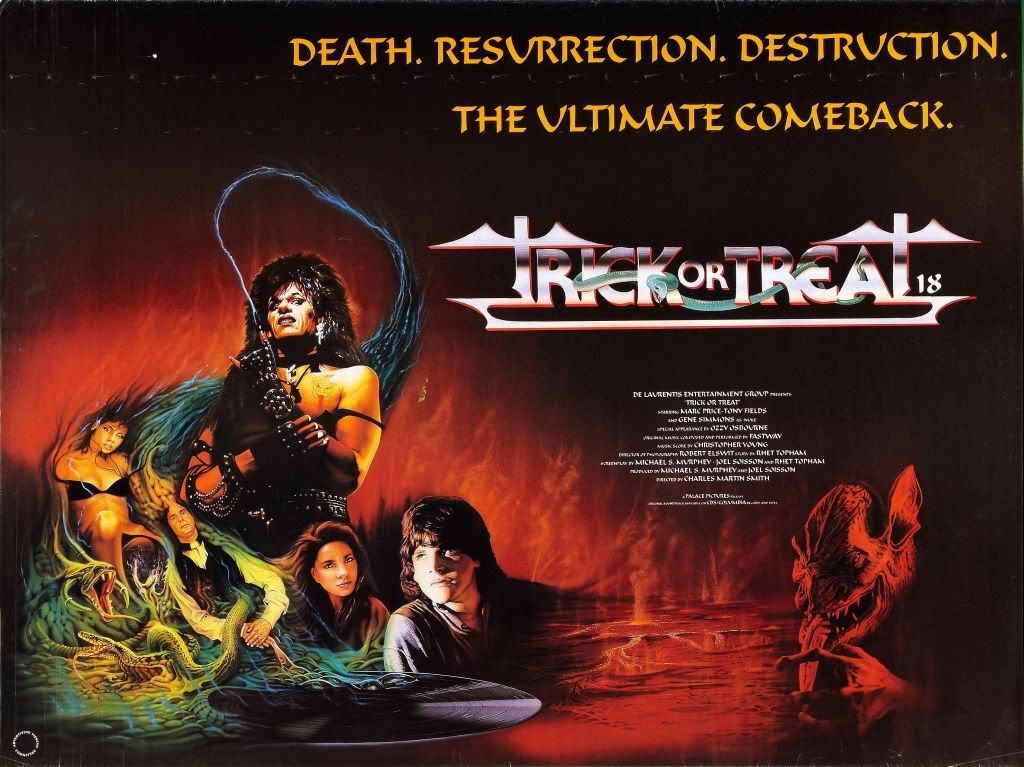 Trick or Treat (1986)
Starring: Marc Price, Tony Fields, Lisa Orgolini
Writers: Michael S. Murphey, Joel Soisson, Rhet Topham
Director: Charles Martin Smith
****Spoilers****
After hearing about the death of his favorite metal frontman, Sammi Curr, Eddie Weinbauer feels as lost as a puppy in a picture on a telephone pole. He goes to a local radio DJ for solace, but instead gets the deceased musician's last recording on vinyl. That's cooler than comfort, if you ask me. Later on at school, Eddie gets invited to a pool party by the girl of his dreams, Leslie. A strange invitation, as she mingles with the popular crowd. Weinbauer says fuck it, goes to the party anyway and falls victim to a near death situation by Tim, a jock asshole that hates misfit metal heads. Vowing revenge on everyone that wronged him, Eddie 'Ragman' Weinbauer treads home and slaps on his new Sammi Curr record, planning to rock the fuck out in pissed off mode. Well, the vinyl has other plans...
Anytime I go back and re-visit an 80's film that involves an outcast being picked on by the popular crowd, I notice that the outcast is infinitely cooler than the Socs. And just look at the jocks in Trick or Treat... the dudes wear shorts that show more butt cheek than their girlfriends. Aside from the ridiculous image, they were fucking assholes to the 5th power! Ragman wore ripped jeans, Chuck Taylors and band t-shirts; he bothered no one. He barely looks different than a true metal head of the now. Go back to any movie 20 some-odd years old and most everyone looks ridiculous, except the rebels and headbangers. They forever appear cool to me, and I always thought the fashionable kids looked like idiots, especially in this movie. Well, some of the girls were hot. Ya know, this is pretty true to life now that I think about it, at least in my high school.
Trick or Treat isn't really all up in your face with dazzling direction, crazy angles or a sleek look. It's all pretty standard stuff, but I dig on it. The opening sequence looks great, which scans over Ragman's room showing off metal posters and board games, then centering down on him while he's writing a fan letter to Curr. I enjoyed the shots at the swimming pool, after the prep squad shove a weight in Eddie's backpack and push him into the water --switching back and forth from POV to focusing on him from a distance. Ragman's revenge/chase scene at school is fucking epic, where Tim and a few of his lackeys run through the halls after Eddie, slipping on wet floors and flying out doors, running through the band practice room causing the musicians to fall like dominoes... etc.
A few more key favorite moments:
1) The dreamlike sequence of Sammi sitting in a circle of fire to the tune of a skipping record. This is actually one of most evil feeling moments in Trick or Treat, as far as I'm concerned.
2) When Tim confronts Weinbauer at his house and tries to get too close, Ragman gives him the "back the fuck up" hand and the two jack-o-lanterns on his left and right become highly inflamed, as if they're in his defense.
3) A trick or treater dressed as a bed sheet ghost bicycling for his fucking life trying to get away from Ragman's possessed piece of crap car. Awesome.
Marc Price (Skippy from Family Ties) plays our headbanger, Eddie 'Ragman' Weinbauer. Price does the transition from pushover to John Wayne toilet paper --It's rough and it's tough and it don't take shit off of no one-- pretty damn well. Ragman fucking rules hard... I'd have been his bestie 4-lyfe! Glen Morgan (who is uncredited as a writer along with James Wong, went on to write various episodes of The X-Files, as well as Final Destination parts 1 & 3) plays Weinbauer's friend, Roger. He's more of the nerd type, but with a slight knowledge of metal music. Morgan is endearing and gives a good amount of emotion in portraying the concerned buddy. I dig Roger, even if he does largely fuck things up in the last half of the movie.
Leslie --Eddie's love interest-- is played by Lisa Orgolini. Here's the kicker: although not fully explored, there's a hint that she's a headbanger disguised in mall clothes! That's right. When Roger goes up to the boombox to play a tape at the Halloween dance, she pops up behind him all giddy and interested, asking "Priest!? Are you gonna play some Judas Priest?" Unfortunately, these hints go no further, other than her befriending Eddie. Anyway, it's a shame that Orgolini didn't really become anything big after this; she's a fine actress and cute as a button. Then we have Doug Savant playing Tim, the metal hating prep that gives Ragman a hard time for no apparent reason. The dude has 'asshole' seeping from his pores. Every time I hear him say "Did the headbanger bang his head?" I wanna knock his fucking block off. Gotta give Savant props, he plays the persona of a prick flawlessly.
SAMMI! SAMMI! SAMMI! SAMMI! Curr was played by the late Tony Fields, previously a dancer on Solid Gold. He's not given a whole lot by way of dialog, a few creepy lines here and there, but mostly just runs around looking the part pretty well. The Curr role was originally offered to W.A.S.P. frontman, Blackie Lawless, who turned it down. For what it's worth, I enjoyed Tony Fields. He sure as shit lights up the Halloween school dance by jumping, twisting, air punching and kicking. A follower (Todd F.) on my Robocop's Sad Side Facebook page gave the perfect kudos to Fields by saying "Horns high for Sammi Curr!!"
Ozzy Osbourne has a cameo as a preacher that protests metal and Gene Simmons plays local radio personality, Nuke. I don't know if there was originally something else to this character, but he comes off really suspect to me. After he gives Weinbauer the Sammi Curr record (where he straight up says "He's in here"), there's this strange glare on his face. Then, flash forward to midnight on Halloween when he is supposed to play the Curr album over the radio. He's not even at the fucking studio; he has it set up on timer to be played! Backwards, no less! Seriously, if there wasn't more to this story at some point, there damn well should have been. Anyway, Simmons is pretty good in his 3 or so minute role, definitely more likable than his real life personality.
Makeup effects were handled by Kevin Yagher Productions Inc (The Hidden, A Nightmare on Elm Street 2-4). There's actually not a whole lot in this department, mainly just pizza like burn marks on the right side of Curr's face. Oh! Also, a backseat car scene where Tim's girlfriend jams out to Sammi on a Walkman, which results in uninvited demon sex and stretchy melted cheese-like ears when the headphones come off! Yagher also provides a cameo as the frontman/guitarist of a band playing at the high school dance, but ultimately becomes nothing more than a spray of exploded sparks, courtesy of Sammi!!!
Doug Beswick Productions (The Terminator) provided visual effects, which were far more plentiful than the makeup aspect. Most every death in the movie comes from electric bolts flying out of Curr or his guitar, obliterating a victim with his brand of shock treatment. Most awesome? Curr's entrance into the movie via Ragman's stereo. Pulsating speakers growing veins, while Sammi's face presses against the fabric grill. Fucking excellent.
The soundtrack by Fastway sparked an interesting debate on my Facebook page (once again, credit to Todd F.) about the music being pretty elementary for a character that represents such evil. It's not something I really noticed at 12 years old, but I certainly do now. I don't want to call it Glam, but it's definitely not the sounds you would likely hear from a Devil friendly metal band. However, this is in no way a dis upon Fastway's soundtrack. In its defense, a lot of the lyrics deal with angst stemming from depression and being a social misfit. Songs like Stand Up, Tear It Down an Get Tough totally adhere to Ragman's characteristics and what he endures during the film. On a side note, finding out that the singer of Fastway --Dave King-- helms Flogging Molly blew my fucking brains out. I've even listened to Flogging Molly and never caught on to that. Shame the hell out of me.
1) Ragman's Mom's boyfriend- Dude fucking owns. Should win boyfriend of the year award circa FOREVER just for his Halloween costume!
↓↓↓
2) Frightened clown guy at Halloween dance- Hah! That's all.
↓↓↓
3) Sammi Curr Vs. Toilet- One more flush and the shitter may have won.
↓↓↓
1) Nuke gives Weinbauer the Sammi Curr record, stating it's the only copy in the world. About twenty seconds later, he says he has a backup tape to play on Halloween. Hah.
2) Ragman's Mom trying to turn off his radio by nearly Hulk-smashing that shit. Really? I know she's supposed to be in frantic mode and maybe a bit out of the times, but still... who the fuck doesn't know about the power button?
3) Why was Eddie really an outcast? Once Sammi Curr takes the lead position of the band performing at the Halloween dance, nearly the entire goddamn school starts rocking their fucking socks off, with the exception of Tim and his preppie friends. That scene makes it look like Ragman should have classmates begging to hang with him!

4) Leslie seems uninterested in the Curr concert just minutes after she reveals the possible persona of a closet metal head. Maybe she was hoping for some true thrash and felt overly disappointed when she saw Sammi on stage doing all that David Lee Roth type shit.
All kiddin' aside, I love Trick or Treat to pieces! It may not be as evil as it could have been, but it's still fucking fun. Rock's chosen warriors will rule the apocalypse, indeed.
Definitely another film I consider essential Halloween viewing.