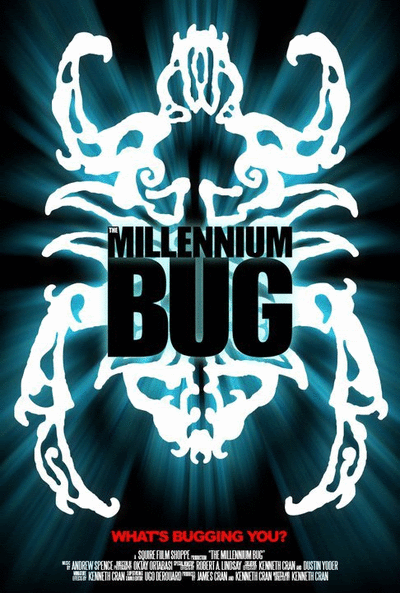 The Millennium Bug (2011)
Starring: John Charles Meyer, Jessica Simons, Christine Haeberman
Writer & Director: Kenneth Cran
December 31st, 1999. The Haskin family travel to the Sierra Diablos Mountains, in order to avoid the insanity of Y2K. Unfortunately, they set up camp dangerously close to a family of inbred hillbillys. Furthermore, something really fucking big is about to break out from its underground dormancy. Something neither family could ever possibly imagine.
I had heard about
The Millennium Bug
some time ago from
The B-Movie Film Vault
's
FB page
, but it just dropped off of my radar. Earlier last week,
Freddy In Space
brought it back in the light by posting a kick ass trailer on his
FB page
. Next, I went to the
IMDB page
to check out user reviews. I don't actually read user reviews over there too often, but I get a kick out of reading the titles of the reviews. The first one I saw for
The Millennium Bug
used "Rip Roaring" as a description of how fun the movie is. It's rare to see "Rip Roaring" being used. When someone pulls that out, it's a safe assumption that they mean that shit. I purchased a copy after visiting the
FB page
and waited with quivering anticipation until it arrived. Holy shit, LINKS!
I'm gonna keep this relatively short, since a lot of people may have not had a chance to see the movie yet.


The Millennium Bug is kinda like a Toho kaiju movie set in secluded back country, where the offspring from a Texas Chainsaw/Wrong Turn orgy dwell. This shit is ambitious. Normal family vs. fucked inbred family vs. big ass monster. It's Godzilla, but with gore. It's Deliverance, but with a dude in a rubber suit wrecking shit.
There are a few problems with the story; it takes a bit long for the monster element to fully come into play. Too much of the hillbilly stuff. At first, the Crawford family (the inbred peeps) are highly entertaining. Funny as shit, disgusting and just straight bizarre. After a while, they start to wear out their welcome and the presence of a big ass beast is long overdue.
Same goes for performances. The further the film goes, the more comfortable some of the actors get in their roles. Some instances, too comfortable. Particularly, John Charles Meyer as Billa Crawford. After a while, the character seems to become too reminiscent of many a gross weirdy, in terms of dialog. Bill Moseley's Otis from
Devil's Rejects
comes to mind. Best performance from the hillbilly clan comes from Ginger Pullman as Pearlene Crawford. I felt a bit dirty, because I must confess I found her to be hot in that backwoods kinda way (especially in a moment after she meets the monster),
****spoiler→
even if she does have some extra attributes.
←spoiler****
To ease my mind, I checked her IMDB page after the film, and yeah, she's legit hot. As for the Haskin family (the normal ones), John Briddell and Christine Haeberman as dad and daughter are absolutely great in their roles. Really convincing, and Briddell puts his character in a top contender spot for bad ass. The movie has quite a few more characters; some of the performances are good, some are so so, or what you may expect. Nothing straight terrible.
The absolute high points of The Millennium Bug are the rubber suited greatness, tons of gory shit, bad ass miniatures and more. Backgrounds are incredible (especially in chase sequences), the monster looks fucking awesome and the flick doesn't shy away from displaying the grue. There's actually a few moments where I had to pick my jaw up off the floor. Not in a "I am offended!" manner, but more in a "Holy fucking shit that ruled!" type way. I'll leave it at that.
So yeah, I picked out some faults, but this is still one highly entertaining movie. The good outweighs the bad. It's definitely one to look out for if you're a fan of giant monster movies or inbred horror flicks or if you're somebody that's always pondered what a hybrid of these elements would be like. I myself had never thought of something so bad ass, not in my wildest dreams. I think that's what makes The Millennium Bug pretty damn unique.