Slaughter High (1986)
Starring: Caroline Munro, Simon Scuddamore, Carmine Iannaccone
Written & Directed by: George Dugdale, Mark Ezra, Peter Mackenzie Litten
****SPOILERS THROUGHOUT****
Marty is a high school science nerd with a boner for the hotties. Luck seems to be in his favor, when Carol takes him to the girls locker room for some frisky shit in the showers. Once he strips down, the promises of sexy times turns into a cruel prank created by the hands of bully assholes. They give him shock treatment, poke him with a javelin, shove his head down a toilet and film the whole thing. The prank really goes south a bit later, when Marty is given a joint by one of these dicks as a form of apology. The pot is laced with something awful, and poor dude gets sick and leaves the science lab, enabling Skip --the main prick-- to rig Marty's experiment to explode. The results are fucking disastrous.
Flash forward to high school reunion time. The bully group shows up to their old stomping grounds --now abandoned-- and despite the weirdness of them being the only attendees, decide to break in to party. We got Smirnoff, PBR, cocaine, marijuana... it seems like one hell of a time, until mother fuckers start dropping off. There's no escape. Doors are locked up, windows are rigged with electric cages, and there's someone lurking in the shadows of the abandoned school halls. Who will make it out alive?
This is classic 80s slasher stuff, right here. Tons of hilarity, bloodletting, and just enough drugs and sexy stuff, Slaughter High has proven to be a fun flick to revisit. Directors and writers George Dugdale, Mark Ezra, and Peter Litten also succeed at bringing us a pretty strong creep factor --thanks to some damn fine cinematography from Alan Pudney, accompanied by an epic Harry Manfredini film score and a balls out performance from the late Simon Scuddamore. The freaky shit comes in once the friends discover a room decorated for partying inside the abandoned high school; particularly when they notice all their old lockers, mostly Marty's. After this sequence, the entirety of the film manages to keep the pacing tight, mixing the laughs and horror really well. The old creeper face jester mask that our killer wears is one for the mother fuckin' books... it gives me chills. There's also some great nods to Friday the 13th, with bodies just chillin' on doors or popping out of shadows like "Hey! What's up!?" Lastly, the final ten minutes or so tie it all up nicely, if you ask me.
Tons of good scenery here, and most of the time the camera work is surprisingly witty. I love shit that some people would probably look over or just think nothing of. Like an overhead scene of a Nitric Acid jar that essentially kick starts the reasoning behind this story. I'm also a big fan of slo-mo; I'm not talking Matrix style, I mean good ole fashion slo-fucking-mo. Slaughter High has a decent bit of it early on, when all the pranksters run out of the gymnasium to a scene of burning carnage in the science lab. Adding more cream to my jeans is an awesome but short over-the-shoulder driving shot. Shit made me feel like I was playing a video game. The chase scenes completely call out to the Friday the 13th series, and the difference of environment --school halls instead of woods-- make it all pretty interesting. The quick back and forth edits from the masked killer carrying a javelin to our final girl are intense. Front to back focusing, low angle shots of a table full of PBR cans, POV falling... this owns me.
Caroline Munro was in her mid 30s at the time, playing a high school girl. Of course, she looks more like that one teacher many of us had whom we masturbated to frequently, but I aint gonna complain about age consistency... it's fucking Caroline Munro. She went from being hot as shit in the late 60s through the 70s right into being hot as shit in the 80s. I'd watch a movie about this woman pouring a cup of coffee. Anyway, she plays Carol, the girl responsible for luring Marty into the girls locker room --which ultimately leads him into one of the worst goddamn days at school imaginable. Munro looks hot walking, talking, doing fuck style pushups, lifting weights, you name it. The late Simon Scuddamore plays our unfortunate character Marty, as I mentioned earlier. Albeit a limited role, he kills it. There's one scene in particular, where he gives off a level of batshit crazy madness, and it's perfect. If you read around online, there's a few different stories about Scuddamore's death (which took place shortly after the production of Slaughter High), but it's pretty cloudy and I don't really feel the need to get into it anyway. All I'm gonna say is he possibly could have went on to do a lot more in this genre. Carmine Iannaccone plays the leader of the popular pack, Skip. I gotta give credit, he nails the 'douche bag you want to die the most' part with perfection. Skip sucks, but in a way, he's actually pretty funny. Most other characters are really transparent. Slaughter High was filmed in England, so many of the actors are faking American accents. There's a few slip ups here and there, but for the most part, they are better than many American actors vice versing it.
The SFX are awesome, and a lot of it is signature slasher formula that fans of this genre will enjoy greatly. Roll Call: Head hung on to coat hanger and hands nailed to door, acid fueled Pabst Blue Ribbon making stomach explode, acid bathing, stabbing through the chest from backseat of a car, face melting away from skull, awesome driving mower death, sewage death, spearing, axing, needle to eye, yowzers! Jester killer don't give a fuck. This dude will use what the shit ever. I'd only seen Slaughter High once when I was younger, and I'd bet it was cut. This Uncut version is pretty awesome in the gore department.
I love the hell out of some Harry Manfredini film scores. From his iconic Friday the 13th stuff, to Swamp Thing, to House. He makes chase scenes so damn intense. The music itself sounds like it's scared of the pursuer it's accompanying. A lot of the parts in Slaughter High sound near identical to the Friday series music, but there's some other things going on, too. One song sounds like calypso porn, and it fits during the gymnasium scene. The theme is what knocks it out of the park, though. "April Fool's Day" is the name (at one point this was a working title for the movie, but was changed because of Paramount's April Fool's Day slasher), and it's Manfredini and John Cariddi mixing Harry's signature sound with some awesome rock out shit that makes me want to smoke a fucking buttload of weed. All in all, another one for the books from Mr. Manfredini.
I'm not really sure how most people feel about this flick, as I rarely hear anyone talk about it, but I think it's a fucking blast. In some ways I feel it's better than it has a right to be. I watched it on one of those Wal-Mart horror collection DVDs, thanks to
Tales From the Batcave
. The transfer is from the Uncut VHS master. It looks decent; a little dark in some areas, but I've seen a lot worse. There's also an
Arrow
release of
Slaughter High
, which I am now pretty damn tempted to get my hands on.
Recommended.
Fairly certain I could watch this all day.
Lighting a joint with a Bunsen burner is beast...
Some mad scientist lookin' shit right there.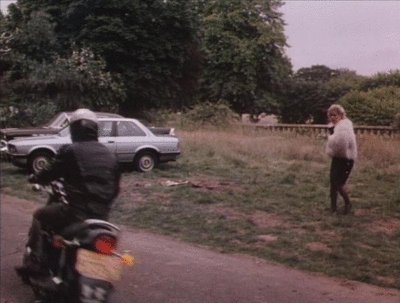 Nice Friday the 13th nod, all the way down to Manfredini's score and the "ki ki ki ma ma ma" shit.
Can I get a high five for velcro chest? I wish I had half that on my fucking head.
Does MC Hammer know that you raid his wardrobe?