The Sleeper (2012)
Starring: Brittany Belland, Tiffany Arnold, Riana Ballo
Written & Directed by: Justin Russell
There aint no secrets to what this is about. I'm gonna take you back in time (no Delorean or phone booth necessary!) to 1981, and we're gonna go to the Alpha Gamma Theta sorority house, because they're having a party. No boys past midnight? Fuck! Eh, who ever listens to the rules of a house mother, right? Well, what these poor saps don't realize is that there's a weirdy lurking in the shadows, watching the girls' every move. He's taking pictures 'n shit, carefully calculating who he's gonna take out with his trusty weapon. Of course, some people go missing and the police get involved, but is there any hope in finding this mystery killer who calls, laughs, cries and stalks before he strikes again? Watch and see!
As far as I'm concerned, Ti West's The House of the Devil and Justin Russell's The Sleeper are the absolute closest you are going to get to authentic feeling late 70s/early 80s horror. But, I'm reviewing The Sleeper here, so we'll put THOTD on the back burner for now. I knew from the get go that I was gonna love this flick, with the old animated restricted rating, to the very Halloween-esque opening --even starting with a sorority rhyme that resembles the children rhyming at the beginning of Carp's classic. There's a few things I have issues with, though. For starters, I feel like the girls look a bit too modern for the time that's being represented. Not by clothing (that seems perfect, except for the character, Ava, played by Ali Ferda. She fits in with the now, and kinda has some Lisbeth Salander thing going on. However, she's hot as fuck, so it's greatly forgivable.), but hairstyles and such. The main dude, Bobby (played by Paul Moon), is really on point, though. He looks like he walked straight out of an 80s slasher. And there's a few continuity issues. Being a big fan of slashers, continuity isn't really a problem for me. Most of my favorites comes chock full of 'em, but I do like to point them out.
****BIG SPOILER→→→
For starters, how does Matt (Aaron Russell) know that Bobby is going to file a missing persons report on Cindy (Jessica Cameron) after he leaves the pub? Was this something discussed between the two before the rest of the sorority girls show up to party? Seemed kinda weird.
←←←BIG SPOILER BEGONE!****
Also, while I love the fuck outta the pub dance scene, was there really songs in 1981 that had lyrics about compact discs? I know CD's originated in the very early 80s, but they were kinda like a color TV when they first came out --meaning, you were really fucking awesome if you had one. Anyway... if anything, I kinda appreciate stuff that allows me to bitch or "WTF" a few times, and there's plenty of awesome shit in
The Sleeper
to make up for these errors, if that's even what they really are.
It's gleefully obvious that writer/director Justin Russell was influenced by many a old school slasher film: During the commentary he calls a few out, like
Girls Nite Out
and
Halloween
, but for me, nothing is more apparent than a very strong love for Bob Clark's
Black Christmas
.
****SPOILER→→→
We got a killer who loves to prank call the sorority with creepy giggles, whispering threats, and crying. We also got a phone tapping scene, and a badass detective named Drake (E. Ray Goodwin) that reminds me of John Saxon big time --maybe not quite as suave as The Sax™, but who the hell is?
←←←SPOILER BEGONE****
I'm not complaining about all this; I was giddy as fuck the whole time.
****SPOILERS→→→
Now, back to the killer; this dude is legit creepy as shit. Dressed in all black with short dark hair and glassed out blind-like eyes. He sits in a small and grimy room, staring at a wall that holds pictures of the sorority babes he has lined up for the slaughter. Taking one of the snap shots down after each of his prank calls, coloring over the beautiful girls' faces with lipstick written Zzzz's. He uses different tools/items from time to time, but his main weapon of choice: A fucking claw hammer. Ouch! And he runs, swinging this hammer through the air like a goddamn maniac.
←←←SPOILERS BEGONE****
The Sleeper
isn't a scary movie, but The Sleeper himself is pretty terrifying.
Visually, this film gets some high marks from me, as well. I don't know what the shit I'm talking about when it comes to cinematography, direction and color skillfulness, but I know what I like, and it's all pretty damn awesome here. I love the vibrancy of outfits, particularly jackets, especially in an early scene where Amy gets a party invitation from the Theta sisters. Amy's jacket is so bright it will turn your damn face red. Love that kind of stuff. The walking scenes in The Sleeper are big time badass, in general. For some reason, I find this to be an important ingredient that helps call back to the era being emulated. The graininess displayed here helps a lot, too. A couple of sequences look like shot-for-shot nods to Halloween and Black Christmas. There's some cool underwater scenery in a pool (and not just because there's a hottie poorly swimming), a weird closeup handshake shot, badass POV sequences, and a fantastic on foot chase scene accompanied by the jams of Gremlin --imagine the group Zombi if they had a threesome with John Carpenter and you'll be on the right track. Lastly, the quick before-the-kill shots that depict what the Sleeper has in store are fucking amazing. Black gloves holding up knives, flipping an ax... it rules.
Performances are what's expected, and I thought they were great. I usually laugh when people talk about shitty acting in a slasher movie, especially one that's trying to be a homage to the 80s. None of the characters have any depth at all. It's just girls that wanna have fun and dudes that wanna get their turtles wet. Realistic, I say! My favorite performances are from Jason Jay Crabtree as The Sleeper and E. Ray Goodwin as Detective Drake. They both rule in their roles, and Goodwin definitely seems to feel the most comfortable out of the bunch. Really dig him and hope to see him in future films.
Jon Shroyer (
Death Stop Holocaust
) handles SFX, and the grue in this flick is fucking awesome.
****BIG SPOILERS→→→
Roll Call: Hammer Smash Face death that would make Cannibal Corpse cream their jeans, palm/fist to face crushery, claw side of hammer vs. eyeball, nasty rope choking, kinda tame decapitation but the fake head makes up for it, throat slit with a hammer, knife stabbing through side of face, and more!
←←←BIG SPOILERS BEGONE****
Great use of tools in this flick, and the kills are pretty damn high on the disgusto-meter, as far as I'm concerned.
Sure, we've seen it before, but what's wrong with another look from a different director, eh? I've watched The Sleeper five times in the last 3 weeks, and I'm sure I'll give it another go soon enough. I got the standard DVD release, which has a director commentary, an hour long featurette, a badass Joe Bob Briggs Drive-In total, theatrical trailers (the 80s style trailer fucking rules) and more. I really need to get the special boxset in my life, because I highly enjoyed this movie. Too much greatness coming out these days for my broke ass.
****SPOILERS IN SOME PICS****
Badass shot so reminiscent of Black Christmas.
Bobby's jacket owns. As does his "I'm 'bout to get laid" howl!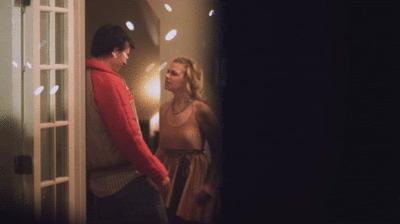 Dereck (Eric Sarich). Kinda looks like a stoner love child of Jeremy Sisto and Gavin Rossdale.
Sex scenes with no nudity usually miff me off. I dig this one for some reason.
Thick legs and asses are amazing. Only thing that could possibly make such scenery even better is striped tube socks!
Gotta have a hilariously choreographed dance scene in a slasher. Minus 10 points if not.
Truth: I fell for Stacey (Rianna Ballo) even before she got naked. I promise. Damn.